Shovel Knight, a popular platformer with indie charm and retro goodness has been released in the Nintendo Switch's Splatoon 2 arcade. This is an homage to the NES era where you'll be taken on a journey of hacking your way through dungeons while collecting treasure as you explore long past forgotten lands. While Shovel Knight Pocket Dungeon is not perfect, it still feels like one of those games that could only exist on this generation and can't help but being nostalgic for anyone who loves puzzle-platforming games from back in the day.,
Shovel Knight is a game that's been around for a while. It has had its fair share of ups and downs, but the latest release, "Shovel Knight: Treasure Trove" is one of the best games released in recent memory. The newest addition to the franchise, "Shovel Knight: Pocket Dungeon" takes the series on an entirely new level.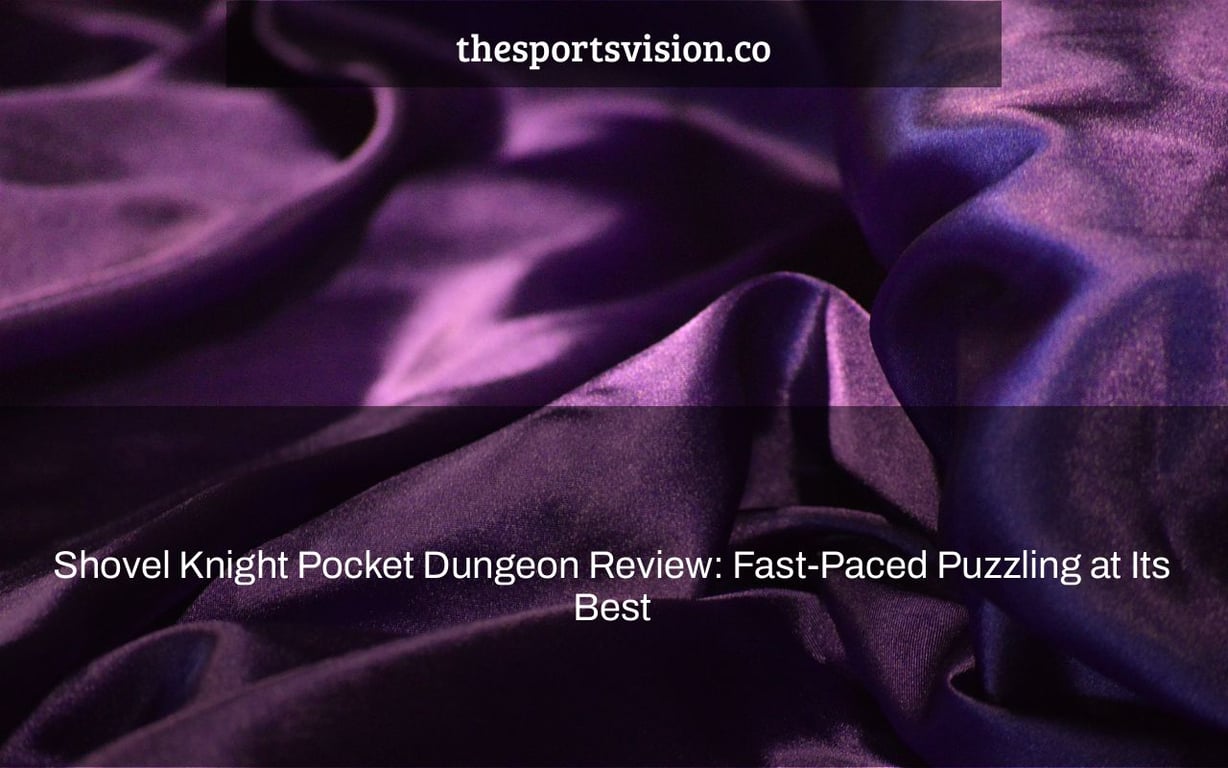 Yacht Club Games' Shovel Knight has become a worldwide gaming icon since its release in 2014. Shovel Knight has appeared in a variety of games, from indies like Blaster Master Zero to AAA titles like For Honor, in addition to five other games to date — four platformers and a platform fighting game.
Shovel Knight Pocket Dungeon is the result of a collaboration between Yacht Club Games and Vine to introduce a puzzler to the Shovel Knight series. Pocket Dungeon is a wonderful time for beginners or veteran fans who have been there from the beginning, with a delightful gameplay loop and lots of characters and nods to prior games.
Shovel Knight Pocket Dungeon Review: The Best Fast-Paced Puzzler
Pocket Dungeon, unlike previous Shovel Knight games, foregoes platforming altogether in favor of a mix of Tetris, Candy Crush, and Grindstone that is both unique and familiar from the moment you sit down to play. The basic gameplay concepts are straightforward: collide with foes, knock them out, and locate the entrance to the next screen. Bumping into foes causes harm to both them and you, so it's critical to plan every move and ensure that your health lasts the duration of the battle.
The larger the mob of foes, the better off you'll be in Pocket Dungeon. Because adversaries of the same kind are connected and share damage, it's important to target huge groups of foes as they drop down and stack up. Thankfully, there are several resources available to assist you along the road.
Enemies drop gems, which may be spent at the item store in the main area to unlock weapons and perks that drop or can be purchased from merchants strewn throughout the levels at random. While the item store doesn't have hundreds of products, there is enough variety to keep things interesting and give you a boost without deviating too far from the fundamental gameplay aspects.
The gameplay cycle in Pocket Dungeon isn't only thrown off by items. Throughout the game, boss battles reveal 12 knights from previous Shovel Knight titles, each with their own special ability that changes the gameplay and yields a distinct prize. While switching characters isn't required (I found myself mostly sticking with Shovel Knight), each character's perk changes the game's style just enough to keep it feeling fresh when things get tedious.
Shovel Knight Pocket Dungeon also accommodates to your preferences in Adventure mode, with two alternative gameplay styles to select from. Every death in a roguelite mode escalates the stakes and adds value to each death, putting you back at square one. A puzzle gameplay approach makes fatalities less painful by depositing a bag of gems where you died and resurrecting you at the top of the screen, where you must work your way back down to your prize.
This feature was a lifesaver for someone who dies a lot in games, and it made the entire experience seem much more manageable. That's not to imply puzzle mode is the easy way out; each death allows foes to stack up without problem for a few seconds after you die, meaning an untimely death might send you back to the hub world.
While deaths are painful, it is simple to make up for lost time – but at a cost. For 500 gems each shot, a rapid travel cannon may send you to various parts of the map. Fast travel is a cheap way to get gems, but at that price, it's not the best way to unlock goods in the gear store or spend gems on a new armor color. It's inconvenient for those who want to save time by skipping the first few levels of a new run, but the relatively high cost of fast travel encourages you to spend more time discovering new items, trying out different knights, and learning the best approach to each enemy type.
Pocket Dungeon keeps things interesting outside of the single-player Adventure mode with daily challenge runs and a versus mode. While daily runs are an important aspect of any good roguelite puzzle game, Pocket Dungeon's versus mode stands out. You can compete against a CPU opponent in a Tetris-style competition to clear screens faster than the other player in couch co-op or against a CPU opponent in a Tetris-style competition to clear screens faster than the other player.
Unfortunately, due to the lack of online functionality, those hoping to connect with their online friends or play Tetris Effect-style matches will be disappointed. These supplementary modes provide some good diversity to the primary Adventure mode, even without any online connectivity, and give you an incentive to keep coming back.
The Bottom Line on Shovel Knight Pocket Dungeon
Pros
Looping gameplay that keeps you interested.
There is a lot of replayability.
There are a lot of adversaries and personalities to choose from.
Cons
The selection of items available in the store is underwhelming.
There is no online functionality.
Pocket Dungeon is the next step in extending Shovel Knight beyond its old-school platformer origins, much as Shovel Knight Showdown did for the series. Shovel Knight Pocket Dungeon is a terrific addition to the Shovel Knight family, with a wide range of gaming concepts and a good degree of difficulty.
While Vine took a completely different path and introduced a new graphic style, Shovel Knight Pocket Dungeon is one of the finest puzzle games of the year while maintaining loyal to its origins and offering the retro-style enjoyment that a genuine Shovel Knight game should.
[Shovel Knight Pocket Dungeon was given for review by Yacht Club Games.]
Watch This Video-
Related Tag
shovel knight treasure trove