The University of Texas fired Tom Herman, the school's football coach. It was not a surprise considering his team just finished its worst season in over 30 years. Will UT make a move before next year?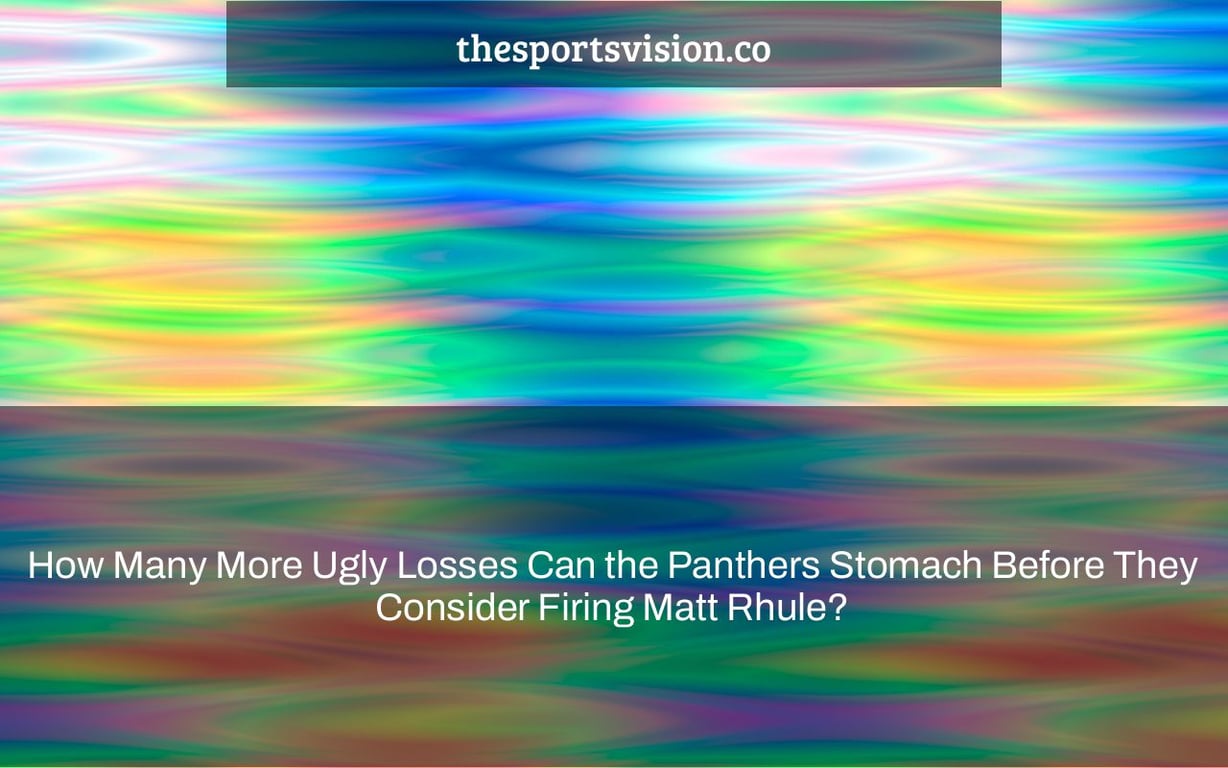 Despite the fact that former offensive coordinator Joe Brady is no longer with the Panthers, the club continues to regress. Whether it's Cam Newton, P.J. Walker, or Sam Darnold at quarterback, the Panthers have a hard time looking competitive on Sundays, and head coach Matt Rhule is to blame.
The issue is how much longer the Panthers are prepared to put up with these dreadful defeats before making a change at quarterback?
The Panthers were thrashed by the Buccaneers.
Jared C. Tilton/Getty Images | Matt Rhule
There was little reason to believe the Panthers would shock the Tampa Bay Buccaneers in Week 16. Despite being severely depleted due to injury, the Panthers have been a complete disaster over the last three weeks. With each passing day, Matt Rhule's continuing experiment of utilizing several quarterbacks on game day becomes more dumb.
Carolina, on the other hand, had a chance to at least seem competitive against the Buccaneers. The Buccaneers were battling with numerous major injuries to their starting 22 as previously indicated. It was Week 16 if there was ever a time for Carolina to sneak a victory over a division opponent.
Unfortunately, such a possibility never came close to being a reality. Tampa Bay thrashed Carolina 32-6, and Matt Rhule reverted to his odd two-quarterback strategy. After 13 throw attempts, he benched Cam Newton in favor of Sam Darnold.
Panthers are presently 5-10 overall and 2-10 in their past 12 games. To say Rhule and Co. had a bad year would be an understatement.
When will Matt Rhule be held accountable?
So far, the Panthers have pointed the finger at everyone save their head coach. Despite his stature as a rising young play-caller, they dismissed offensive coordinator Joe Brady too soon, and they've gone through more quarterbacks than any other club in the NFL.
Rhule has benched three different quarterbacks this season, and he's gone back to previously benched quarterbacks only to bench them again. For Rhule, it's been a never-ending game of musical chairs at the job. The Panthers would have likely signed a random free agent to throw into the mix if Darnold hadn't returned from injury this past week.
The Panthers are without a franchise quarterback. That is self-evident. Rhule, on the other hand, must accept responsibility for his team's troubles at some time. He was a significant reason the club traded for Darnold instead of choosing a talented youngster like Mac Jones or Justin Fields this past summer.
Can the Panthers handle any more losses?
The Panthers are defeated 32-6. Cam Newton made a beeline for Tom Brady at midfield before heading into the Bank of America Stadium tunnel for the last time. pic.twitter.com/r203rVpYZL
December 26, 2021 — Joe Person (@josephperson)
The Panthers are unlikely to split ways with Rhule this summer. He's just in his second year as a coach. Carolina's seat, on the other hand, must begin to heat up if he is serious about being a long-term winner. In 2021, he's been a disaster, and his frequent reshuffle of the quarterback position is causing a lot of unneeded controversy.
Allowing Rhule to look for a new quarterback this spring could be a mistake. He's already shown himself to be inept at nurturing young players (Darnold).
Regardless, the Panthers must examine their head coach closely and honestly. This year has been a disaster for him. He shares the same amount of culpability as Joe Brady, Cam Newton, and Sam Darnold.
Pro Football Reference provided all stats.
Should the Rams be concerned about Matthew Stafford's health heading into the playoffs?
Watch This Video-